As featured on iTunes New & Noteworthy, KINDA DATING is the perfect podcast for millennials...because who actually says they're in a relationship anymore?
Which is why former MTV News producer and experienced dater, Natasha Chandel, and celebrity/expert guests break down the dating world one topic at a time and try to answer the proverbial question: why the fuck do we all have commitment issues?! With the answers we're going to help you get it in! We mean, find real love.
It's a fun, lighthearted show that often gets deep, where guests share their candid opinions and dating stories (if they so wish), in a way you've never heard!
Segments include: the infamous 6 Questions and Advice to Your Favorite Character.
Available on your favorite podcast app!
Natasha Chandel
Creator/Host
---
Natasha Chandel is a creative executive/producer (Disney, FOX, MTV), comedy writer, actress, host and overall funny girl.
As host of KINDA DATING, Natasha has interviewed everyone from Bollywood's Sunny Leone to Facebook star Laura Clery to Time "Person of the Year" Dr. Wendy Walsh to EPs/writers of your favorite shows, to her own parents!
Born in Dubai, Natasha has lived in Mumbai, Toronto, New York and now resides in LA, bringing her truly diverse perspective to all her projects.
Also a trained actor from the age of seven, the versatile actress can be seen on Comedy Central's MAN UP, CBS' SEAL TEAM, Hulu's THE MINDY PROJECT, recurring on the influencer-heavy web series BAKER'S DOZEN and viral videos like WOMEN TRY BALLS (viewed 41 million times). She is a graduate of UCB improv, receiving a 2017 UCB Diversity Scholarship. Her performance work has screened at over 15 film festivals worldwide, aired on the Sundance Channel and in-flight on Air Canada. She has appeared on HBO's HOW TO MAKE IT IN AMERICA, CBC's 11 CAMERAS and the film festival darling PRIA.
In theater, Natasha was recently the lead in the comedy play BROWN'S 3-4 and has been in multiple runs of the acclaimed VAGINA MONOLOGUES, among others. Natasha has studied under revered teachers like Wynn Handman (teacher to Christopher Walken, Alec Baldwin etc.) to comedy legends Will Hines and Shannon O'Neill. She was also a dancer for the world-renowned Shiamak Davar Dance Company (Toronto), performing alongside Bollywood legends, and was his first international instructor for nearly ten years.
Besides that, Natasha got her first writing credit at 18 for co-writing and producing the historical documentary, HAPPY BIRTHDAY FLOWERTOWN, winning an international and national TV award, but gained critical acclaim and a first-look deal at Viacom for creating, producing, writing, directing and starring in 3 seasons, 28 episodes of the comedy web series, MUMBAI CHOPRA: MISADVENTURES OF AN IT GIRL She is currently adapting the show for television. She also helmed THE CAN, a branded comedy series, and is shopping her first UNTITLED comedy pilot project. Her style has been described as edgy, hilarious and honest.
The journalist and former MTV News producer/writer has interviewed some of the biggest stars in Hollywood and Bollywood including Priyanka Chopra, Black Eyed Peas, Sofia Vergara, Macklemore to digital stars like Mikey Murphy, Megan Nicole, and more!
Natasha was identified as a "leading Protege for creativity" by Lancome, featured in the Mille Femmes exhibition honoring 1000 of the most creative women in the city of Toronto.
Aisha Holden
Los Angeles native Aisha is the associate producer for Kinda Dating, and often a co-host. Outside of the podcast, she is a social media manager for AwesomenessTV and an actress. Aisha is enjoying the single life but loves hearing her friends dating stories and will not hesitate to give her opinions when they ask for them. She is fascinated by the "science of dating" and digging into what makes people tick.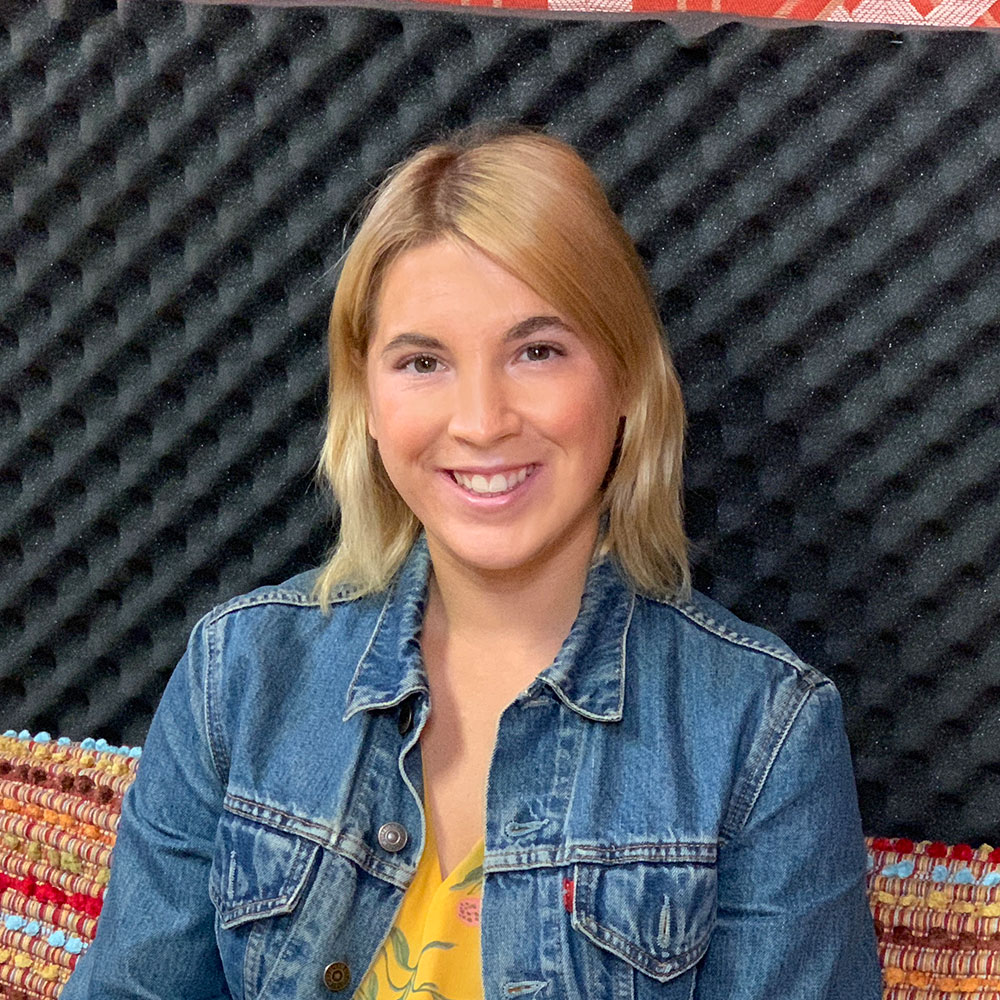 ---
Jenna Ribbing
Jenna Ribbing is Kinda Dating's Associate Producer. She also helps out on the audio and video for the show and you'll hear her chime in every now and then (but not too often because she's a lil' shy!). She's originally from Southern Illinois and got her start in the industry through her love of storytelling. Jenna is a recent LA transplant after graduating from NYU's Film program, and outside of the podcast, she works as a freelance production assistant and writer.
Adam Pineless
Adam Pineless, audio engineer, has worked in production on multiple TV shows, feature films, short films, commercials, and podcasts in the Los Angeles area. Adam sees himself as a content creator. Working on projects as a screenwriter, audio engineer, and musician for over the last 18 years. He releases his music under the band name Adam Versus. For more from Adam, visit his website.